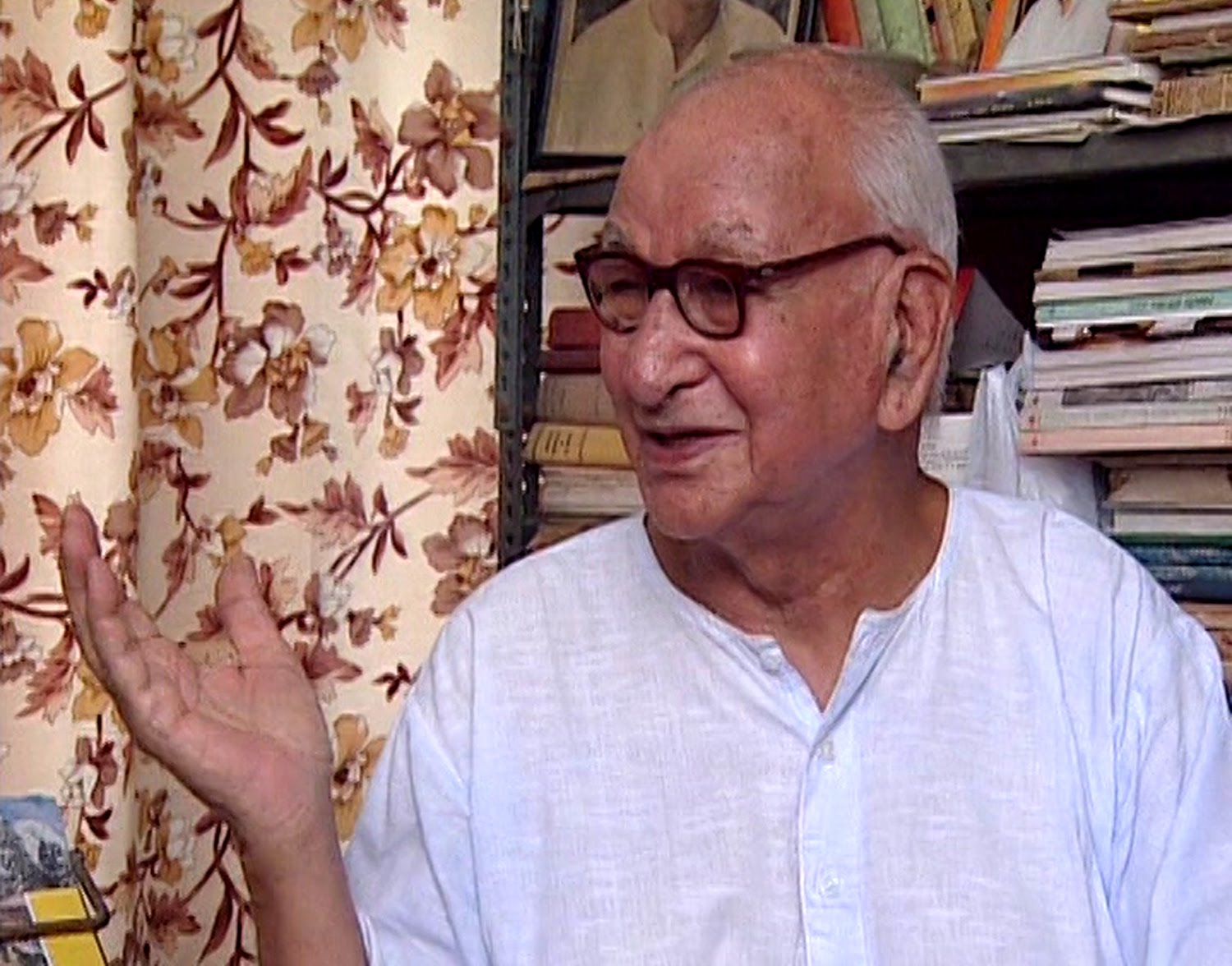 Prof. Ram Nath Shastri, the doyen of Dogri, was born on 15th April, 1914 and died on 8th March2009. Every human being, however ordinary he may be and every incident, however insignificant it may be, contributes, in shaping the future, but some human beings endowed with exceptional qualities create a new history.
Such great men attain the status of icons. Prof. Ram Nath Shastri was one such extraordinary human being who by virtue of his signal contribution to Dogri became synonymous with the movement of Dogri literature. To create your own path and to tread on it is no mean achievement but to make a path not only for self but for all others to follow is a rare feat. Prof. Ram Nath Shastri was destined to make it happen.
It was on the auspicious day of Basant Panchmi in the year 1944 that a momentous decision to form Dogri Sanstha was taken. The first page of history of Dogri literature was written with the formation of Dogri Sanstha. Had Sanstha not been formed then perhaps we would not have witnessed the phenomenal development of Dogri literature and Dogri might have been much poorer as far as literature is concerned. Those who took initiative to form Dogri Sanstha, were non other than Ram Nath Shastri and some of his contemporary writers. How revolutionary and path breaking was the idea of formation of Dogri Sanstha, to work for creation of Dogri literature, can be gauged from the conditions prevailing at that time.
Pre 1944, scenario of Dogri literature was quite dismal. Only four books, in all, were available in Dogri – 'Rajawali' or 'Rajauli', a translation of the Persian work of Dara Shikoh, Dogri translations of famous work of mathematics 'Leelawati' and 'Bhagwat Geeta' by Tahal Dass Jyotishi Vishveshwar and Prof. Gauri Shankar respectively and 'Bhajanmala' in Dogri by Pt. Hardutt. Dogras and Dogri speaking people were considered uncouth and uncultured by the elite. The vast treasure of Dogri folk literature, fine qualities of melodious Dogri folk music and remarkable art of Dogra Pahari paintings and the history of amazing feats of valour and courage of local folk heroes, were buried under the dust of ignorance and utter neglect. Under such circumstances it was certainly a daring objective set forth for themselves by the founders of Dogri Sanstha to create literature in Dogri and to highlight the innate beauty and aesthetics of Dogra folk-art,culture and heritage. But it is such trying circumstances which bring out the best in the great men. Prof. Shastri and his enthusiastic collaborators measured up to the challenge.
The history of Dogri Sanstha became the history of phenomenal growth of Dogri literature and Prof. Ram Nath Shastri became synonymous to Dogri Sanstha. Most of his contemporary and young writers rallied round him and became a pillar of strength and source of inspiration for them. Like a true leader he led by his personal example. Realizing the need fora wholesome growth of Dogri literature, he wrote in almost all genres of literature and urged and coaxed the gifted and talented younger lot to do the same. Many of the ones whom he inspired surpassed him in creative excellence,thus taking Dogri to great heights.
It is a strange coincidence that in March 1944 Ram Nath Shastri was appointed Lecturer in Prince of Wales College, Jammu and in April of the same year Dogri Sanstha came into being. In those initial years Sanstha lacked both – its own office space as well as finances to support its activities. For first five years the main activities remained confined to literary discussions and 'Kavi Sammelans.' Despite the adverse circumstances, the enthused group of writers kept the movement alive by holding the activities in schools, gardens, tea-stalls and drawing rooms of friends.
In 1950 the first ever publication of Dogri Sanstha 'Jaggo Duggar', a collection of representative Dogri poems was brought out. Obviously it was edited by Prof. Shastri. In its editorial he wrote "…The history of ups and downs in the life of Dogra community as a whole, its struggles during different periods, its pains and miseries and its artistic tastes and expressions have not been written about or recorded so far. Dogri Sanstha has taken upon it-self to make a serious endeavour in this direction.The area of activity of Dogri Sanstha is now not limited to literature only but will encompass social and cultural issues also."
In 1951-52 Prof Shastri along with Dinu Bhai Panth, Prof. M.R. Puri, Prof. Goverdhan Singh, D.C. Parshant, Prof. Ishwar Sharma, Yash Sharma, Madhukar, Om Saraf, Narayan Misra etc. used to go from door-to-door or stand in the busy chowks of Jammu to sell the first three numbers of 'Nami Chetna' a composite literary magazine of Dogri, Hindi and English published from Delhi. Later in 1967 when Sanstha decided to publish new version of 'Nami Chetna' regularly, purely as a quarterly Dogri Literary magazine, Prof. Shastri took its full responsibility. He shouldered this responsibility for 21 years with unwavering devotion and dedication, setting standards of publication in Dogri. Of the eighty six numbers published during this period he edited seventy five, which in addition to short stories, poems,and literary criticism also contained information on activities of Dogri Sanstha and other Dogri related developments. This is the most valuable and authentic documentation of Dogri Literature and is a treasure for scholars interested in the history of development of Dogri literature. The journey of 'Nami Chetna' continues uninterrupted and 166 numbers have been published till date.
The process of collection and publication of Dogri folk lore was set in motion by the publication of 'Khare-Mitthe Athroon' by Dogri Sanstha in 1956 under the supervision of Prof. Shastri.
A team of artists and writers led by Prof. Shastri staged numerous shows of Play 'Nama Gran', the first published Dogri play, across the length and breadth of Duggar. Prof. Shastri not only played the lead role in the play but was co-author of the play (other authors being Dinu Bhai Pant and Ram Kumar Abrol).
It was due to persistent efforts of Dogri Sanstha that J and K University introduced the examination for awarding'Tilak' (Proficiency) in Dogri in 1964. And then with successive gaps of 2years each, it also introduced examinations in 'Praveen' (High Proficiency) and 'Shiromani' (Honours). Not only the titles of examinations were suggested by Prof. Shastri, but he also undertook, on behalf of Dogri Sanstha to make the books available for the syllabi of these examinations. In order to help and encourage candidates to opt for these courses, Prof. Shastri organized 'Free Coaching Classes' by Dogri Sanstha right from 1964, which he personally managed and monitored.
It is impossible to imagine a standard form of a language without its own dictionary. Prof. Shastri, when charged with this responsibility by J&K Academy of Art, Culture and Languages, brought out the first ever Dogri-Dogri dictionary in 1989 in six parts as its Chief Editor.
To instill pride and dignity in Dogras and to free them from sense of inferiority, Prof. Shastri launched a compaign to resurrect those courageous heroes of Duggar who had not found any mention by the official historians. For centuries Gardees and Daraeses had been singing 'Baars' and Kaaraks' based on bravery and sacrifices of many such folk-heroes.A play written by Prof. Shastri on the life of folk hero Baba Jitto was stagedat Tikkri in 1948. Lately a new version of the play 'Baba Jitto' written by Prof. Shastri and directed by Balwant Thakur has been nationally and nternationally acclaimed. In another great play of Dogri 'Sarpanch' written by Dinu Bhai Pant based on the life of folk hero Ranpat, Prof. Shastri performed in the lead role in its numerous shows. Further, Prof. Shastri organized a series of seminars at various locations of Duggar to unravel the unwritten history of the region. The findings of these endeavours were published in various numbers of Nami Chetna and other books published by Sanstha. Those covered under this initiative include Mian Deedo, Baba Jitto, Data Ranpat, Shaheed Ram Chand, S. Budh Singh, Lala Hans Raj etc. At the back of this respect and regard for these folk heroes, was the strong commitment of Prof. Shastri to progressive ideology.
Another objective before Dogri Sanstha was to make people aware of their rich cultural heritage and traditions of art.Through the joint efforts of Prof. Shastri and Master Sansar Chand Baru, first ever exhibition of Dogra-Pahari miniature paintings was held at Tikkri in 1948.This was later followed by a much bigger exhibition at Jammu in 1950 and even on a much grand scale at Delhi in 1954. This not only made Dogras aware of their priceless heritage but also opened a window to the art-lovers world over.
In addition to leading and guiding the movement of Dogri renaissance through his unmatched managerial skills and meticulous planning, Prof. Shastri has contributed significantly to Dogri literature through his monumental works containing books of short stories, poems, ghazals, one act plays and full length plays. Further he has more than hundred published essays on literary criticism, has edited more than hundred books, translated more than two dozen books and penned down many radio plays.
For his contribution to Dogri language and literature Prof. Ram Nath Shastri was conferred with the title of 'PadmaShri', Sahitya Akademi Award, Fellowship of Sahitya Akademi and Honorary Doctorate, by University of Jammu.
To any observer the accomplishments of Prof. Shastri do not appear to be a work of single individual. It looks like a work of a team of highly gifted individuals. Perhaps he was a team in himself.